Pine Bluff community groups giving back ahead of holiday | News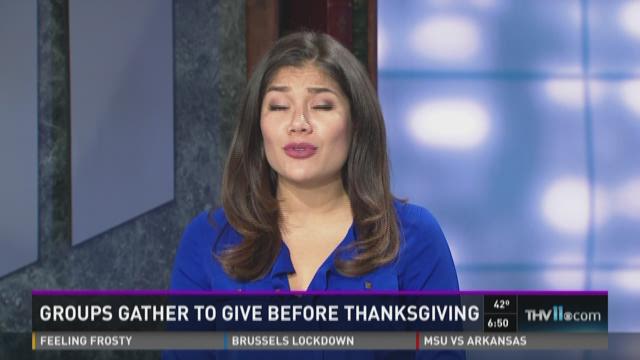 PINE BLUFF, Ark. (KTHV) -- A week before Thanksgiving, one man is helping to spread a clear message in his community. 
Churches and organizations are participating in a city-wide effort to provide food for those in need including the Salvation Army, one of dozens of organizations to participate. They have plans to serve around 500 members of the community.
Artie Hamlet, a senior at UAPB, organized the event.
"I was basically looking for someone to help me make this project bigger," said Hamlet.
He saw the need on campus and then spread out his vision for the rest of the community.
"You never know, you can have an impact on someone's life, like somebody couldn't have [eaten] today if I wouldn't have made this happen…you can change someone's life forever."
A couple of streets down, pastor Terry Brown at NewBirth Baptist Church is providing food supplies for the holiday feast coming up.
"We want to give those that have fallen on hard times the same type of meal on Thursday that we're going to have," said Brown.
They gave out more than 130 bags filled with a variety of Thanksgiving meals, and these acts of kindness organized by several groups are done with purpose:
"We want to help change the perception of our city; we know that change does not happen overnight...but we know that these small acts of kindness and love can draw people to Christ."
Pine Bluff Mayor Debi Hollingsworth also volunteered at the Salvation Army's Thanksgiving Dinner. In all, the group fed more than 600 people on Saturday.
"We have greatness going on, and we're doing great things in Pine Bluff."
Hamlet's words could be a signal for a brighter future in the city of Pine Bluff.