Reward offered in Pine Bluff murder | News
PINE BLUFF, Ark. (KTHV) - A reward is now being offered in the shooting death of a University of Arkansas at Pine Bluff student.
The Wilbert family has put together a $10,000 reward for anyone with information that leads to the conviction of suspects in the 21-year-old Keith's death.
"There is someone who knows what happened on Boone Street. And that reward is an incentive," said Reverend Derrick Wilbert, Keith's uncle.
On September 23, Keith Wilbert Junior, a UAPB student, was killed inside his home.
"He was always happy, always had a smile on his face. He loved god, he loved his family and he loved his friends," said Rev. Wilbert.
The suspects: three men with bandanas covering their faces. The men demanded money from 21-year-old Wilbert, then shot him.
"We are asking those persons to think, 'what if it was your family member?' 'Would you want us to help you?' I promise you we would."
No arrests have been made in the case.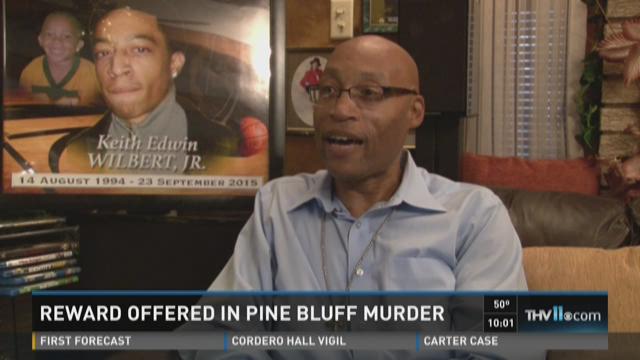 "We are asking God, and not only that, but the people, the good people of Pine Bluff to help us. Because they don't want this in their community. They don't want their community to be known as the murder capital."
Monday, both Derrick and Keith Wilbert Senior asked the Pine Bluff City Council to do more to protect students and to find the suspects responsible.
"There's killers on the loose in Pine Bluff that need to be caught and caught like right now."
The Wilbert family is asking for donations to the reward in hopes that someone will come forward. The family is also asking UAPB to match those funds.
"Really, what we want them to do is to step up. Not only for Keith Edwin Junior, but for all their students."
The family said they won't stop fighting until justice is served.
"We're not going to stop here with Keith Junior's murder. We are going to advocate. And that's what we are going to do. Because we don't want another family to have to go through the pain and the hurt."
If you are interested in donating to the Keith Wilbert Junior Reward fund, stop by the True Service Federal Credit Union on Hermitage Road in Little Rock.
We reached out to UAPB but haven't received a response.
Previous Stories: 
Father speaks out about Pine Bluff murder
Father of murdered UAPB student speaks out
PBPD: Person shot to death during home invasion